Obtaining the I-20
Once you receive your acceptance to Moody, the International Student Office (ISO) will contact you to provide proof of finances. You are required to show that you have the financial ability to pay for at least your whole first year of study. To determine the approximate cost of attending Moody, download the approximate expense sheet for the campus you plan to apply to.
Acceptable Proof of Financial Documents
Choose one of the following three methods to provide proof of finances.
Self-Sponsored
The student must provide his/her official bank statement showing that sufficient funds are available to withdraw anytime. It must be original, otherwise, a notarized copied document is acceptable.
Sponsored by Others
If you have secured a sponsor or sponsors (family member, friend or private institution), they must complete the Moody Affidavit of Support Form and have it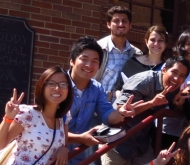 notarized. All questions must be answered. Otherwise, indicate N/A for any inapplicable fields. The sponsor must indicate his/her intention to sponsor the student and clarify how much (in US dollars) and how long the support will be. Also, the sponsor(s) must provide the proof of ability to financially support the student's entire first year expense by submitting a notarized official bank statement. (American sponsors can use the I-134 affidavit form.)
Pre-Payment
This is the least preferred method.
If you or your sponsor(s) prefer to pay the entire cost of the first year, please contact our Student Accounts Administrator and have the statement be sent to the International Student Office. To arrange payment or statement, please contact Student Accounts Administrator at studentbookkeeping@moody.edu or (312) 329-4368 in our Treasury Operations department. ISO does not recommend this option, unless necessary, due to the complication in the billing or transferring back the fund later on.
Your designated school official (DSO) from ISO will also ask you to: send a copy of your passport ID page, complete a personal information sheet, and pay for the I-20 mailing fee (the cost varies for different countries). You will receive a document called the Form I-20, "Certificate of Eligibility for Nonimmigrant Status." The Form I-20 is a paper record of your information in the database called SEVIS.
Once you receive the I-20, you must check to make sure that your name and date of birth (DOB) are correctly listed and spelled. If it is not correct, contact the school official who sent you the Form I-20 and ask the DSO to correct it.
International Student Office