Counseling Services
At Moody Bible Institute Counseling Services, we believe counseling is a process whereby a counselee seeks to resolve personal, interpersonal and/or spiritual difficulties with the assistance of another caring individual. Your counselor will bring to the sessions his or her professional knowledge and experience, but the ultimate responsibility for growth and change rests with the person being counseled.
Make an Appointment
If you are interested in making an appointment to see one of our counselors, contact us today!
Phone: Contact Steve Brasel, Associate Dean of Counseling Services, at (312) 329-4194.
E-mail: You may also contact Steve Brasel via e-mail at sbrasel@moody.edu.
Please keep in mind, however, that email is NOT a secure form of communication.


MBI Counseling Center Additional Resources
We have added additional services to support your mental health needs during this time. If you have any questions or need assistance with signing up for any of the services below, contact:
Sharina Porter, Counselor/Outreach & Wellness Coordinator
Sharina.Porter@moody.edu


Walk-In Wednesday Hours
The Walk-in program allows students the opportunity to schedule a same-day 30-minute counseling appointment to help cope with sudden stressors. Appointments are scheduled on a first-come, first-served basis and will be available every Wednesday
Fall 2021 Walk-In Hours. Beginning Wednesday September 29th, fall walk-in hours will be held from 1:00-3:00pm. Appointments are made available for scheduling every Wednesday morning at 9:00am. See eligibility and sign-up details below!
Eligibility. All students currently residing in Illinois, on campus or studying remotely, are eligible to use this service. If you are currently meeting weekly with one of our counselors, please refrain from using this service.
How To Sign Up
Visit Counseling Services office (Smith 3) Wednesday morning at 9:00am.
Let us know you'd like to schedule a walk-in appointment.
Complete & Submit required paperwork to front desk.
Return for your appointment time Wednesday afternoon!
Group Counseling
Fall 2021 group sign up is available now! See details below!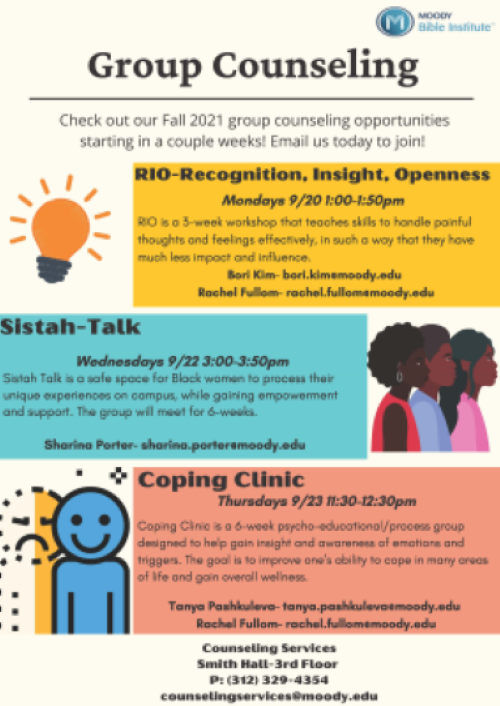 Contact Us
Counseling Services
Smith Hall, 3rd Floor, North Wing
820 N. LaSalle Blvd.
Chicago, IL 60610
Office Hours
Monday–Friday
8 a.m.–4 p.m.
During academic year,
when classes are in session
P: (312) 329-4354
F: (312) 329-4479