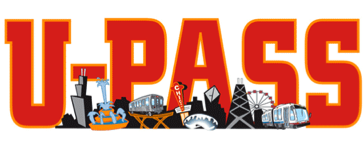 You save with U-Pass!
The University Pass Program (U-Pass) is a Moody student's pass to travel to stores, social events, sports events, art and entertainment centers, churches and Practical Christian Ministries (PCM) throughout Chicago. Participation in the CTA U-Pass program is mandatory for all full-time (12 credits or more) undergraduates in the Bachelor of Arts (B.A.) Program and seminary (9+ credit hours) students. The U-Pass cost is $150.00 for each Fall and Spring semesters and is included in the student's school bill each semester. This fee is non-refundable. The U-Pass Program in not available during Summer school sessions.
U-PASS Rules and Regulations
(as outlined by the CTA)
The U-Pass provides full-time students unlimited rides on any CTA bus or train during an academic term.
U-Passes of students who drop to part-time status will be deactivated.
Any U-Pass presented by a person other than the student whose name and photograph appears on it will be confiscated, and the person may be subject to arrest.
Students should carry their student ID with them at all times when they are planning to use the CTA U-Pass.
Replacement of U-Passes
Damaged or Captured Passes:
To replace, come to the CTA Customer Service Center with a copy of the bus or rail form (obtained from the bus operator or customer assistant) and your ID. If your U-Pass is put into the bus cash slot, it is treated as a lost/stolen U-Pass and you will need to pay $50.00 for a replacement; no courtesy pass will be issued. Rail: for captured pass obtain the turnstyle number.
Lost/Stolen:
Bring valid school ID and $50.00 (cash, credit or money order) non-refundable replacement fee to the CTA Customer Service Center. Lost/stolen cards will be replaced only once per academic term.
Replacement U-Passes will be distributed by the Office of Student Programs on Fridays after 2 p.m.
CTA Contact Information
cta-upass@transitchicago.com
Phone: 1-888-YOUR-CTA (1-888-968-7282)
Customer Service Center Address:
567 West Lake St. 2nd Floor, Chicago, IL
Hours: Open Monday through Friday, 8 a.m. to 4:30 p.m.
Directions: take either the Pink or Green line to Clinton, walk 1 block west to Lake and Jefferson, or the #56 bus. CTA is on the corner of Lake and Jefferson.